Caregirl Summer 2019 Outreach
Caregirl Classroom renovation July 2019
As part of the Caregirl Summer outreach 2019, Dara visited Akinsemoyin school in Lagos Nigeria where she was able to renovate the nursery classroom and donated books, toys and stationery to the kids.
Caregirl school Buddy activities day at

Akinsemoyin school

July 2019
Dara, with her brrother and cousins who live in Nigeria ran an activities day for the children at the school.
She spent time at the nursery class speaking to the kids and getting to know them. The children particularly enjoyed the reading session.
She also visited the year 5 children where she and her cousins gave inspirational talks on education. They had fun science experiements, reading activites and arts and crafts sessions.
Nursery class visit at Akinsemoyin school

19th July 2019
It was lovely spending time with the little kids at the nursery class. We began by speaking to the children and finding out a bit about them. Then I read a book to them called The Jelly That Wouldn't wobble. They enjoyed listening to me read, and I enjoyed it too! We also gave them stationery, books, toys and treats.
School Buddy Activies Day

Primary 5 class- Akinsemoyin school

19th July 2019
The year 5 class visit was so much fun. We did fun science experiments, arts and crafts, reading and lots more.
My friends in the UK became penpals with some of the children who wrote letters back to them.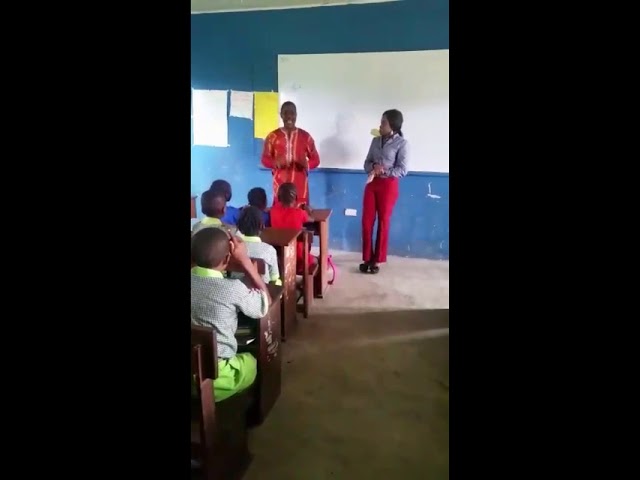 Caregirl summer Project 2018
Caregirl stationary donation in Nigeria (September 2018)
During the presentation of the Caregirl stationery to the children at Akinsemoyin primary school,Lagos, Nigeria, in this video is their class teacher addressing them and encouraging them to be inspired by Dara and to see themselves as the leaders of tomorrow, committing to making a difference just as Dara is doing.
Caregirl summer project 2018

Stationery Donation
Caregirl Summer 2018 Project; donating school supplies to 54 children in Primary 5 at Akinsemoyin Primary school, Lagos, Nigeria.
Dara's aunt presenting the items to the children.
Caregirl stationery donation to Akinsemoyin primary school,

Lagos, Nigeria

September 2018

- visit done by Dotun Arifalo (Dara's aunt) on behalf of caregirl
Packing 54 pencil cases to be sent to children in Nigeria 6th September 2018
/